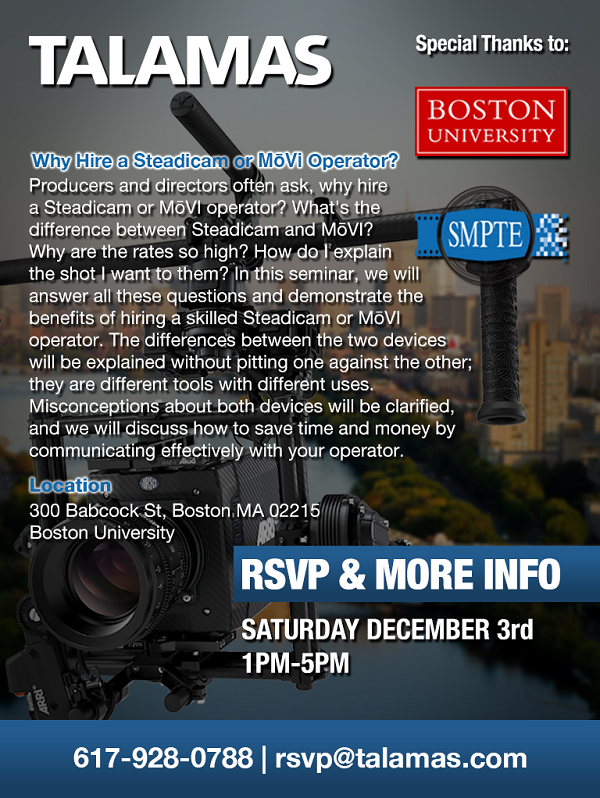 About Joel San Juan:
Joel San Juan, SOC is a professional Cinematographer and Steadicam/Camera operator with more than a decade of experience behind the camera. He has worked across 3 continents and his work has been seen on network television channels like HBO Asia, Discovery Channel, France 2 and ARTE France, as well as major film festivals around the world, including the Berlinale Film Festival and Camerimage. His most recent project with Netflix and the Sundance Lab will be broadcast in 2017.
Joel is a full-time Associate Professor of the Practice for Cinematography at Boston University's Film and Television Department and currently an active member of the Society of Camera Operators.​
About Lisa Sene:
Lisa Sene​ is a Steadicam owner/operator based in Boston, MA. She holds a BA in Cinematography from Emerson College, and has worked on a variety of productions all over the country.
​Lisa helps teach new operators alongside the masters at the Steadicam Operators Association Workshops, and will be an instructor at this year's Asbury University Steadicam Workshop.
With a strong background in ​cinematography, theatre, and ​literary analysis, ​Lisa strives to ​match the visuals to the story by meaningfully composing each shot in order to stay true to the overall vision of the project. ​Lisa is a part-time Rental Account Manager at Talamas, ​where she has also lead several events about camera operating.
About Michael Smith:
Michael Smith, or "Smitty", is one of the many "Mikes" in our Video Department and is a Video and MōVi Technician. Smitty enjoys being on set, operating a camera and creating whenever he can. In his downtime Michael can be found climbing some walls, brewing some beer, painting or simply relaxing and watching a movie.
About Talamas:
Talamas is the premier sales and rental house in New England, providing digital cinema and professional audio equipment to the film, television, and content production markets nationwide. Highly regarded for our exemplary customer service and technical expertise, Talamas is always focused on your production. Learn more at talamas.com